People often compare the home with their personalities and see them as creative expressions for the many different ways of living their life. Also you can't deny the fact that we're all very familiar with those common quotes which say that when you invite someone to your house, you actually are inviting them directly into your life and showing them a sneak-peak of your own soul – whether you like it or not, you must admit that there's always many a true word spoken in jest.
It's crystal clear to us that people have various preferences and many different needs, so you can't have exactly the same taste with all of your friends when it comes to interior designing and picking up furniture or tiny décor details as well.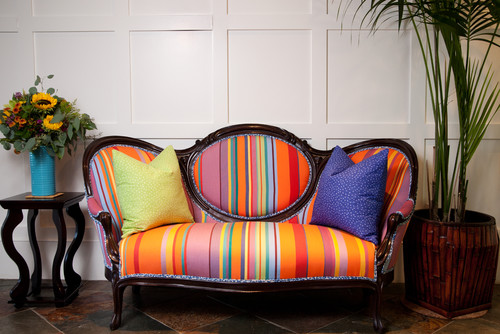 But you needn't keep under wraps your thoughts and feels about the way of your perception of a random home you've walked in. Some places feel dull or empty to us and it's definitely not a matter of the lack of furniture that house has. Other ones may feel too noisy and intimidating, causing some serious dizziness during your stay, thanks to all those different details and diverse patterns that look kind of psychedelic when blended all into one final product as-is the interior of our homes.
What could one do to improve the aura of the home?
We already said that you surely can't expect that everyone will agree with your taste for design, but you really can keep in mind couple of things that would surely boost the atmosphere in the whole space in a very positive and subtle way.
It's worth the try!
1. Less is more
First of all, you need to know where the limits are when it comes to home décor. It is often said that 'less is more' and people more often confuse this quote by connecting it to the furniture which is included in the design of the particular room. Well, hate to break it, but it's not related to the main furniture at all!
It means that you really shouldn't overemphasize the details, especially the used patterns that decorate and give the spirit of life to space.Let them be simple, unique yet mesmerizing and able to draw people's attention to them in a very subtle way. To make it easier – you better try not to force mixing the various types of patterns if you aren't sure whether floral vintage fabrics look good with stripes, animal print, checkered fabrics etc. or not. Stick to one basic pattern (for example, a tablecloth in horizontal stripes) and complete its final look by adding some popping colors (table pads under your plates in vivid tones) that match the basic cloth.
The well-chosen décor elements will give the picture of a cozy place that really invites you to take a moment to savor life's simple pleasures!So, don't be frightened by the idea of being spontaneous and try to mix those colors with various patterns to literally brighten your home.
2. Lights and brights are always a good idea
Let there be light(s)! It is scientifically proven that the human brain percepts the palette of lighter colors as positive and calming. They really are able to lend a sense of peace to the atmosphere in your house, so use them wisely and frequently as well!
Lots of whites can make the space very monotonous or truly sterile, so even if you do really like these minimalistic décor styles, try to use some details with slight patterns and match them with velvet, silk or even some embroidery designs. The difference from before would be instant and you'll  just need to let them work their magic!
3. The more (layers), the merrier
Keep always in mind that taking for granted this 'less is more' quote can be a not-so-bright idea. You don't need to be limited or strict, you just have to think (and work) smart with the used fabrics and patterns. Indeed, the design of the space is based on forming triplets – the number 3 is a very powerful segment in architecture and interior design; it symbolizes stability. Like one the triangle has, as a shape obtained by connecting three dots.
See? Trios are everywhere between us!
Those all-in-one-color designs seem very uniformly and dull. The deficiency of vividness is more than obvious here. So, why not try to exit from our comfort zone once and for all and mix and match patterns with specific fabrics? The results can be fascinating. You'll just need a base – whites or brights as well can do the job. Then, you can choose and add your favorite pattern and spice it with fabrics like silk, velvet, satin or chiffon and linen as well.
4. Keeping it simple
Simplicity is the key that has the ability to open all those doors that lead directly towards the smart and efficient design. You don't need a book to teach you the lesson that you can't put sheets and details in three different patterns on one sofa or bed. It just doesn't ring any bells in the area of the design and it tires the eye so much it hurts!
Working with such things as colours and patterns can be a very trickiy situation, but there's no need of worrying when you tend to achieve simplicity. A well chosen combination of colours using different fabrics and various patterns in the end should bring balance to the whole space. This is surely possible when you pick some of your favouritecolurs, choose simple and classic materials such as linen, cotton, silk, wools or plush velvets for getting a warmish feel and finish to the defined space. The décor details are optional, and you wouldn't need much of them if you choose the right amount of patterns – they will add really great finishing touches and bring some dimension to the whole room.
5. Think outside the box
Going by the book knows to be just oh-so-boring these days. And just for a change, thinking out of the box doesn't sound like a bad idea at all, does it?                                                                                                                                                     Shapes and patterns will give just the perfect final touch to space and it can get its depth and dimension in the blink of an eye!  And luckily, patterns can be inserted everywhere you imagine. Not only on fabrics and furniture like we're used to it, but also in many more innovative ways – for example, you can make your own patterns even with the floor tiles in the bath or in the halls; or you can use decorative tappets for the walls that nowadays seem to have a very wide palette of various shades and patterns as well.
Just use your imagination, visualize the space in your room, and add that tridimensional pattern on your ceiling – yes, of course, you can make patterns on your ceiling to embrace the definition of the room. The good design can often be a product of 'letting the ball go out of bounds'way of thinking.
So, what is your favorite textile tip? How will you use them to make your house the coziest place?
Tell us in the comments below!
Like
designing in layers, feeling comfortable, floral, home decor, plush velvet, stripes, using fabrics, various patterns