Another December is right in front of us and it has already brought the holiday spirit into our homes.
Christmas is a stocking stuffed with sugary goodness, said Mo Rocca and we couldn't agree more!
It's the ideal time for curling like burritos under our favorite blankets (with Christmas motives, of course!) by the fireplace and enjoying our hot cocoa or a cup of tea. Such a jolly season to spend with our family and loved ones.
But when it comes to decorating the interiors of our homes for the holidays, it's true that not everybody of us could remake exactly the same sceneries that we saw in our favorite movies, TV-shows, and magazines.
All of us live in different types of homes, with various content and concept of the floor plans, so we should keep in mind that some variations might be a must.
The most common question that keeps spinning in our minds is – how to decorate the small places? How to decorate your small apartment taking advantage of the maximum potential that a certain place has?
Keep reading to find some really practical tips and tricks based on this topic.
Everyone has his or her own concepts of 'taking care' when it comes to the part where we prepare our homes for the Christmas period. Some of us like minimalistic décor, others like to accentuate particular places from the home with some bold colors.
But to be honest, not everything that we see on TV or between the pages of our favorite magazines can be easily implemented in our own homes. So, we need to be fully aware of the capacity that our place has.
Living in a small place is either a blessing and a 'curse'. It's easy to clean and maintain the place, but when it comes to decoration – it literally becomes a nightmare right before Christmas.
In order to fulfill your imagined concept of decorating the home, you just need to have a good plan to organize and adjust all the scenery-elements that need to be there as a Christmas décor this year.
Simplicity At Its Best
It's always better to tend to keep a simple way of decorating. Choose the 'essentials-only' concept and you'll never go wrong.
Include lots of cheerful colors, lots of mistletoes, garlands, ribbons and of course – a Christmas tree or a creative improvisation of it.
Don't exaggerate with the décor and all those details around the places that you want to accentuate in your home with some lovely décor.
There really isn't any need of placing all of your décor elements. Just pick a couple of them. Choose wisely the ones that could easily adapt to every variation or to most of your imagined scenery-designs.
Too much décor could only show the flaws of the space and the deficit of width around your interior. So, keep it simple and you'll never make a mistake!
The Minimal Centerpieces
Centerpieces are maybe the most common décor that can easily give the Christmas spirit to a certain place.
This could be an easy DIY-project for every one of us, without any doubts.
The good thing about this kind of décor is that you could never go wrong because there are just so many variations that could be done.
Use your favorite festive colors, add bows and green branches (greenery is a must!) to emphasize the Christmassy spirit.
There are dozens of available combinations and variations that your creative mind and crafty hands could do together.
Another bright side is that these DIY-projects are very budget-friendly for every one of us, so we don't have to be afraid that we could exhaust our credit cards during the festive periods that follow.
The Teeny-Tiny Christmas Tree
Could there be a real Christmas without any Christmas tree? Um, we don't think so – do we?
The tree is a must for every home. And since it is the most crucial part of the whole Christmas décor, it has to be placed in a corner from where it could be easily spotted during the day.
Let's turn our focus once again to the small places with minimalistic dimensions. There's often not enough space for placing a full-size Christmas tree but still – try not to let the Christmas spirit that easily –  keep in mind that you could always improvise with the decoration and the Christmas tree isn't an exception of it.
Buy a smaller version of the famous Christmas tree – you can either take a real or a 'fake' tree. The next step is to choose the right position in the room for placing the teeny-tiny tree. It needs to be easily noticeable, so choose wisely.
Don't let the size fool you – it doesn't mean that the Christmas tree should always be enormous in order to be beautiful and to awake the right dose of Christmas mood.
The Christmas Mantel Never Gets Old
What is a Christmas mantel?
It's a type of festive decoration that is often used to accentuate the fireplace or the shelve above it.
Feeling like a pro at doing DIY-projects? Then, release your mind and feel free to sharpen your scissors and turn your creativity into action – Christmas mantels could easily be made at home.
Still wondering what to do in cases when you don't have a fireplace at your home?
The answer is simple – pick some Christmas tree branches, decorate them with Christmas ornaments, bows and lights and place them on the window parapets.
It would give the same impression, just represented in a more creative and more simple way.
Color, color, color
Last but not least, try using lots of bold colors. Christmas is famous for the use of green, red and white.
But, let us think outside the box – as we usually do –  and try to insert some silver, gold, glittery details.
They surely could enrich the whole space and make an illusion of a rich atmosphere and grandiosely wide space.
You could also improvise with the candles – buy (or you could even make your own) some decorated candles with glitter, shiny details or colorful combinations and place them wherever you like.
Try to choose some other creative and thematic ornaments and instead of tiny Santas and reindeer, you could also pick mini-stuffed bears, rabbits, squirrels, nuts, and berries.
Turn your creativity on and improvise with their placement.
Don't forget that improvisation is the key to a successful Christmas decoration.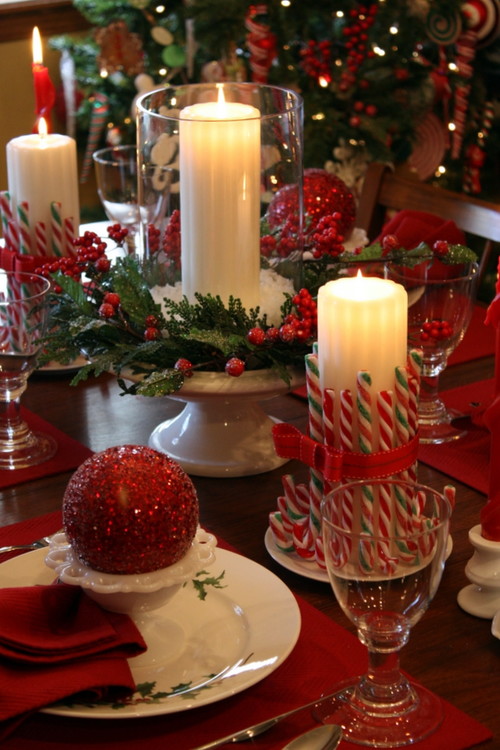 Which type of décor would you choose if you had limited space? Share some of your most used decorating tips and tricks for the jolly season. Are you a true fan of Christmas trees or you prefer another décor that turns the Christmas tone on in your home?
Feel free to share them with us and don't forget to 'deck the halls'.
Merry Christmas, folks!
Like
centerpieces, Christmas, Christmas mantel, Christmas tree, colorful, contemporary, decorating, garlands., holiday décor, holidays, homedecor, lights, minimal, small places